It's been a while since I did one of these weigh-ins. Somebody asked me if I gained some weight and was too embarrassed to tell everyone. Well that's not the case. I am a student and November –December is a crazy time of year. And of course school is my top priority. I promise I am not going anywhere. This is only temporary. Now back to your regularly scheduled program…
.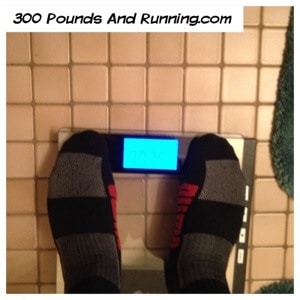 It's time for an overdue Weigh-in Wednesday. Since the last weigh in I started Cross Fit and I haven't been running as often but recently the running bug has bitten me again, I've been running ever since. I ran a couple races and I will update the race page as soon as I can. The last time I weighed myself I weighed 309 and some change. Let's see what I weigh today.
Get your own graph at skinnyr
Well Well Well I lost 3.1 pounds. All of this time that I didn't weigh myself and I'm fairly constant to my weight loss goals. I survived Thanksgiving without any weight gain especially since I love cakes, pies and cookies. I always get tempted by them and I am glad that I can finally say "No Thanks," once in a while. My nutrition is something that I am weak in. It's a constant battle everyday but I am maintaining. I can only imagine how fast the weight would fall off if my nutrition was on point. All and all I'm in a good place now. Well it's time to get focused and get back to work. Only a couple more weeks until I finish this semester and I can't wait til it come. My blog really needs some TLC..I can't wait to tweak it  of semester break.
Until next time I am 300 Pounds and Running.
Want to start running, but don't know where to begin? I'm here to help, download Zero to Running, for FREE!