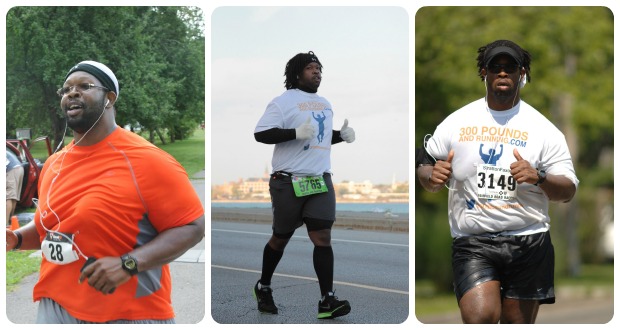 My name is Martinus Evans, I am 300 Pounds and Running… figuratively and literally.
Screw walking, I'll run a marathon
-Martinus Evans
In July 2012, I weighed approximately 360 lbs (I don't know the exact weight because all the scales I encountered stop working at 350 lbs.). One day I walked into work and felt a sharp pain in my hip (the pain literally brought tears to my eyes). I went to my primary care doctor and he recommended that I go to physical therapy. After 20 or so weeks of therapy the pain was still there. So I went to an orthopedic specialist and he said to me, "I know why you're in pain." I asked why and he said, "Mr. Evans, it's because you're fat and you need to start walking and losing weight." Feeling angry and embarrassed that the doctor called me "Fat", I responded, "Screw walking, I'll run a marathon." I left the doctor's office, bought some running shoe and created this blog. The name 300 Pounds and Running was inspired by a NWA song, titled 100 Miles and Running. The initial goal of this blog was to document my journey to eating right, losing weight, and running a marathon.
Since inception of this blog, I have lose over 80 lbs and ran my first marathon in my hometown of Detroit, MI.