As you know I went to FitBloggin about a week ago. Being fat boy there are certain things that I look forward to at conferences, one of them is the snacks. I might have to spoof the track by Trey Song called "Two Reasons," because I only go to events for the food and the drinks.  Out of all the snacks I had at FitBloggin; one particular snack stood out to me the most. popchips! I never had popchips before I went to FitBloggin and I'm not going to lie at first I was very skeptical about them. I said to myself, "chips at a fitness blogging conference you get to be kidding me, they must be baked…I'll pass!" Then I found out that they wasn't baked or fried. They are "popped" like popcorn….
http://www.youtube.com/watch?v=S04BWYk1cUg
So against my better judgment I tried the ranch tortilla chips to see how they compared against "cool ranch" and I was blown away on how flavorful they were. I thought to myself where have these chips been all my life. As the finish off the bag I check out the label because something so good can't be low cal…are you serious it's only 120 calories per bag. Well you know what…I'll have another bag please! popchips are definitely a delicious snack, it's all natural, and low in calories. They were so good, that I asked the nice people at popchips if they can help me share the popped experience with my loyal readers and their answer was yes! With that said one lucky reader will have the opportunity to win a case of 12 bags (3 of each new tortilla flavor) of popchips.
 The popschips giveaway
Sign in below with your email or Facebook to get started…Good Luck!
Some of you might be thinking, "Well what do I with 12 bags of popchips?" I got you cover; popchips has teamed up with award-winning Chef Aaron Sanchez of Food Network's Heat Seekers and Chopped to bring you four exclusive recipes to pair with your favorite tortilla popchips and beer:
Grilled Chicken Cemitas and Garlic-Chipotle Love with salsa tortilla popchips and Goose Island 312 
Makes 4 servings

For the Chipotle Love Sauce:

1 cup of canola oil

12 garlic cloves

3 tablespoon chopped canned chipotle chiles in adobo sauce

1/4 cup finely chopped cilantro

zest of one lime

2 teaspoon kosher salt

For the Cemitas:

2 large boneless, skinless chicken breasts

Salt and freshly ground black pepper

1 teaspoon cumin

1 ripe Haas avocado

Juice of 1 lime

4 cemita rolls or hamburger rolls with sesame seeds

Olive oil

1 cup refried beans, warmed (from 1 15-ounce can)

8 ounces Oaxaca or mozzarella cheese, grated

Sliced ripe tomato

Thinly sliced lettuce

Fresh cilantro leaves

1. Make the Chipotle Love:  In a dry medium heavy nonreactive sauce pot place oil and garlic cloves and cover with foil and place in 300 degree oven for 45 minutes till garlic has browned and become soft. Remove from oven and allow to cool. Then place remaining ingredients and cooled garlic oil mix in a food processor and puree till a smooth paste.

2. Prepare a medium-hot charcoal fire or preheat a gas grill with the lid down for 10 minutes on high.

3. Split each chicken breast in half horizontally and lay each piece between two pieces of plastic wrap. Pound each breast half until it's one-quarter inch thick (if you don't have a meat pounder, use the bottom of a small saucepan). Sprinkle each piece with salt, pepper and cumin on each side.

4. Mash the avocado with the lime juice and season with salt, and warm the refried beans on the stovetop or in the microwave.

5. Grill the chicken breasts for 4 to 5 minutes, turning once. Set aside and keep warm. Split the buns and brush lightly with olive oil. Grill, cut sides down, until just golden brown, about a minute.

6. To assemble each sandwich, spread the bottom half of each toasted roll with a quarter of the mashed avocado. Top with a chicken breast, then spoon on a quarter of the refried beans. Divide the cheese among the sandwiches, and top with tomato, lettuce and a sprinkle of cilantro. Drizzle on a generous amount of Chipotle Love and top with the remaining bun half. Cut each sandwich in half before serving.
Ceviche with chili limón tortilla popchips and Bud Light 
Makes 6 servings

1 pound fresh halibut filets (or any firm-fleshed white fish, such as haddock, red snapper or sea bass), diced into 1/2-inch cubes

1 cup fresh lime juice (from approximately 8 to 10 limes)

1 fresh red Serrano chili, seeds discarded, chili thinly sliced

1 teaspoon salt

1 small mango, cut into 1/4-inch cubes

1 scallion, white and green parts thinly sliced

2 tablespoons chopped fresh cilantro

1 tablespoon extra virgin olive oil

1. In a medium-sized glass bowl, combine the fish with the lime juice, Serrano and salt. Cover and refrigerate for 3 to 4 hours. The fish cubes will "cook" in the lime juice until they are opaque.

2. Half an hour before serving, stir the mango, scallion, cilantro and olive oil into the ceviche. Cover and refrigerate 20 minutes to let the flavors meld. Serve with chili limón tortilla popchips for scooping up the ceviche.
Crab Dip with ranch tortilla popchips and Stella 
Makes 6 servings

1  8-ounce package cream cheese, softened

1 cup mayonnaise

1/4 cup buttermilk

Juice of 1 lime

1/2 teaspoon salt

1 jalapeno, finely minced

1 pound lump crab meat, picked over, any shells discarded

1/4 cup chopped fresh cilantro

1 scallion, white and green parts thinly sliced

1. Preheat the oven to 350 degrees and grease a 1-quart baking dish.

2. In a mixing bowl, blend the cream cheese and mayonnaise with an electric mixer on medium speed. Blend in the buttermilk, lime juice and salt until the mixture is smooth.

3. Using a wooden spoon or rubber spatula, gently fold in the crabmeat. Turn the mixture into the prepared baking dish. Bake for 30 minutes, until the mixture is golden and bubbling.

4. Sprinkle with the cilantro and scallion and serve warm with ranch tortilla popchips to scoop up the dip.
All-Beef Chile Colorado with nacho cheese tortilla popchips and Shocktop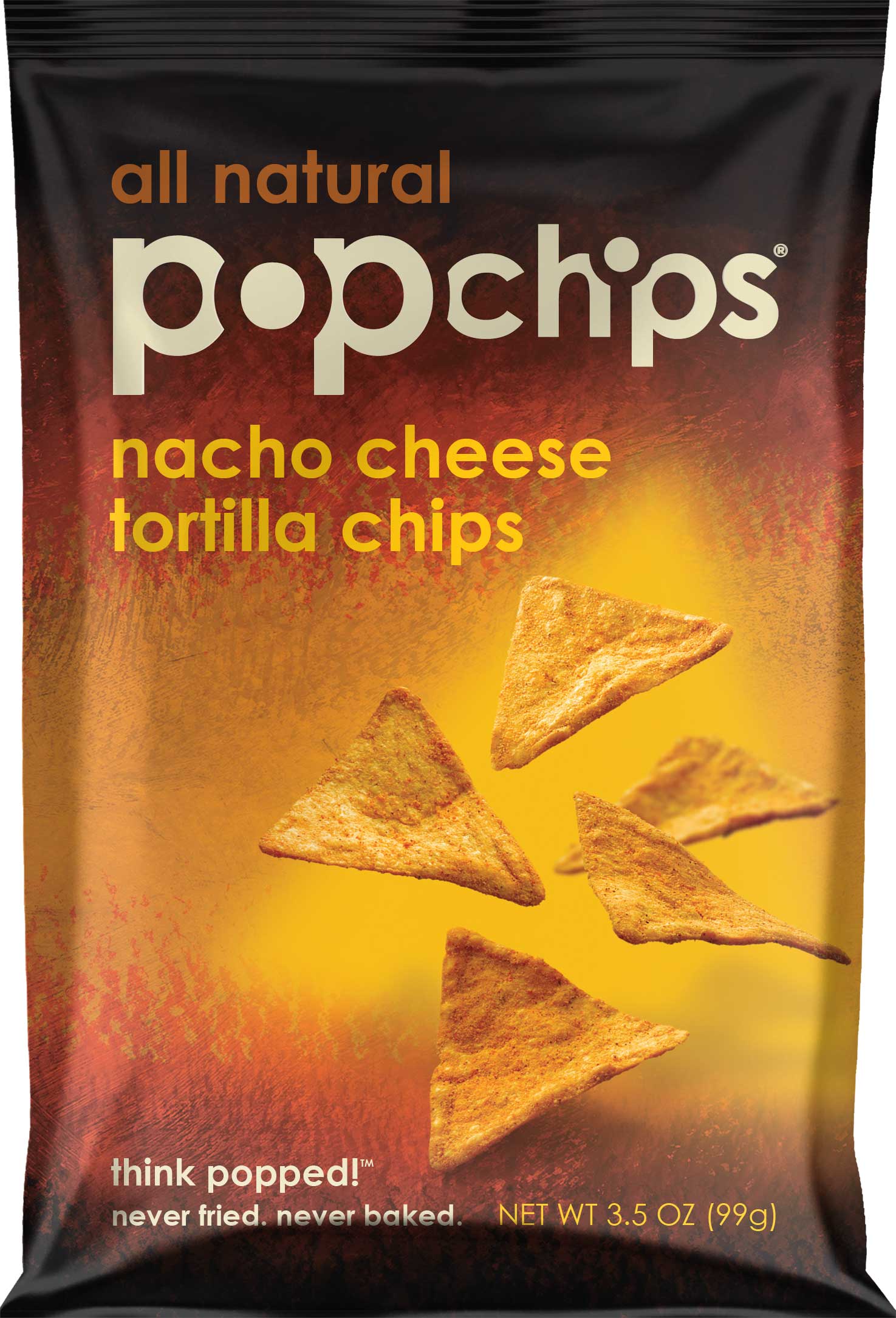 Makes 6 servings

6 guajillo chilies, stems and seeds removed

1 1/2 cups boiling water

6 fresh tomatillos, papery skins peeled off

6 garlic cloves, unpeeled

2 chipotle chiles in adobo

2 tablespoons olive oil

2 large yellow onions, coarsely chopped

2 pounds ground beef (preferably chuck)

1 15-ounce can diced tomatoes

2 tablespoons ancho chile powder

2 teaspoons ground cumin

1 1/2 teaspoons salt

Freshly ground black pepper

Grated sharp cheddar

1. In a dry skillet over medium heat, toast the guajillo chilies on each side for 30 seconds, until just softened. Put them immediately in a glass bowl and pour the boiling water over them to cover. Soak for 15 minutes.

2. In the same dry skillet, toast the tomatillos and garlic, turning several times until the vegetables have softened slightly and the exteriors have brown marks, 3 to 4 minutes. Discard the paper skins on the garlic.

3. Put the guajillo chilies in a blender with the soaking water, the tomatillos, the peeled garlic, and the chipotle chilies in adobo. Pulse to make a smooth puree.

4. In a large stewpot over medium heat, cook the onions until softened and just turning golden, 6 to 7 minutes. Add the ground beef and cook through, breaking it up with a spoon as you cook, about 10 minutes.

5. Add the pureed chiles and tomatillos, the tomatoes, ancho chile powder, cumin, salt and a few grindings of black pepper. Bring to a boil, reduce heat, and simmer for 1 hour, loosely covered, until the deep orange-red sauce is thick. You may need to add a little more water, but take it easy. The finished chili should not be too wet.

6. Taste and add more salt and pepper if needed. For each serving, put a handful of nacho cheese tortilla popchips in the bottom of a bowl and ladle a serving of chili on top. Scatter with a handful of cheese and eat at once.
Until Next Time I'm 300 Pounds and Running!
Facebook.com/300poundsandrunning
Want to start running, but don't know where to begin? I'm here to help, download Zero to Running, for FREE!