Look outside it's a bird… It's a plane… Oh wait it's just my big ass running. For the past eight days I've forced myself to lace up and run. It's not pretty… It's far from those inspirational running pictures that give you some clever quote to make you feel good inside. Naw this is pavement pounding…Breathing hard…Sweating uncontrollably… Oh God, I've only ran 10 minutes…Type of running… The most rewarding thing about this besides finishing couch to 5K (Woot! Woot!) is that I ran for eight days straight and going for nine-days straight today. It's looking like it's the beginning of something monumental. Things are moving in the right direction.

Another thing that is on my mind is my weight, even though I haven't been tracking (actively) I still step on my withings scale from time to time. I can see that the pounds are starting the inch their way up since the car accident. I can't do much about the past other than try to stay out of my head and move forward. However I think it is time to take an objective look at my weight and at least start posting and talking about it.
To give y'all a little background I started journey weighing around 360 pounds. The lowest that I've been is 277 pounds, which is an 83 pound weight loss (if anybody is counting). I stepped on the scale yesterday and my current weight is 342.3 pounds, a 65 pound gain since the car accident in January 2014. I'm not surprised at all, this is what happens when you're not able to work out, feel sorry for yourself, and eat everything within an arm's reach. No I'm not surprised. However, I'm surprised that I did not gain it all back or even more.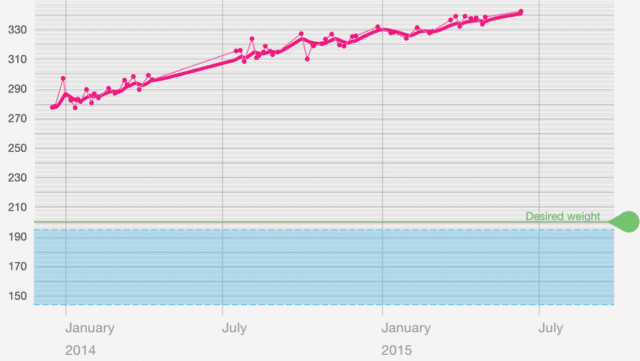 Most people will say if you did it once you can do it again.  Theoretically, that makes sense. However, for the person that is going through this, something is different about them… I've seen people lose over 100 pounds, gained it back plus an extra 50 and when you talk to them they seem defeated. Like all hope is gone. Maybe they don't have the confidence like they did in the first time around. Or maybe they feel like why bother? I don't feel defeated or why bother, but I do know my journey has changed a bit. For those going through this I understand what you are going through and the best advice that I can really give you is it's a process. Make a plan and work that plan every single day. Don't think of it as trying to lose 80 or 100 pounds all at once but rather losing 1 pound 80 or 100 times…
I once wondered why I should continue with this blog. How can inspire someone when I'm having struggles of my own? That's when I realize that being open, honest, and laying it out on the table is by far the best inspiration that I can ever give anybody. See as a blogger sometimes I feel that we are overly positive about the events in our lives. We sometimes discuss the bad but never the ugly. However, life is good, bad, and ugly and how are you supposed to make any real connection with anyone if you are showing just one side. Here is my truth, I certainly won't be the first person to lose a significant amount of weight and gain it back, I most likely won't be able to last, and I believe someone can learn from these experiences…We are not alone in this journey… That is all!
What do you think of today's post? Leave a comment below.
Until next time,
300 PAR
If you found this post useful please post forward it to a friend or share it on social media..If you like what I'm doing please subscribe. Don't forget to follow me on Twitter:@300lbsandrunnin, Like the 300 Pounds and Running Facebook Page, if you are on: Instagram I'm @300PoundsAndRunning, YouTube: 300 Pounds and Running, and Nike Plus:@300PoundsAndRunning. Lastly I've create a group on Facebook called Crushing Goal Together… This is a new support group to help anyone plan, track, and crush goals, be sure to check it!
Want to start running, but don't know where to begin? I'm here to help, download Zero to Running, for FREE!