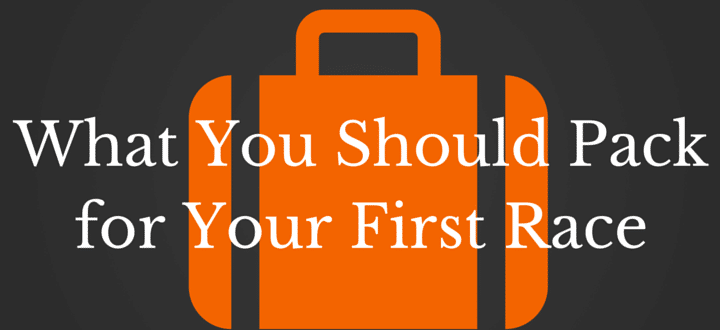 What's up, goal crushers!
So you think you're ready for your first race. You've trained, you've prepared, and you're motivated to get out there and do it. It doesn't matter if you're doing a 5k, a half marathon, a full marathon, or anything in between – if you believe you can do it and you've done the right training, you can get out there and run that race successfully.
However, don't fool yourself. You're entering into a world you've never experienced before. Running a real race ain't like hitting the treadmill at Planet Fitness. Your body might be ready, but you're going to do better if you keep in mind a few tips as to what you should be packing to take with you on this all-important first race. To that end, here are some things to keep in mind!
Pre-Race Preparation
Whether your race is around the corner from you or it's across the country, make sure to bring some things to prepare you once you get to the starting line. Make sure you pack sunscreen, as even on cloudy days you can still get badly sunburned if you're not careful – UV rays go right through the clouds, after all. Likewise, pack a skin lubricant to prevent chafing and blistering, especially if you're doing a half-marathon or a full marathon. Make sure you're hydrated and you've got a healthy pre-race snack on hand if needed, so don't forget the water bottle or an energy bar. If you can't bear to be apart from your phone, a belt or an armband to stow it safely while you run is also a great idea. Finally, an extra roll of toilet paper can be a lifesaver if the porta-potties on site run out!
Read More: Running While Fat: Chafing in Intimate Places
During the Race
Weather-appropriate clothing is going to be super important. You've got to bring a running top and either tights or shorts depending on what sort of weather you're expecting. Next, make sure you've got your best wicking socks to keep your feet dry in your running shoes (you did bring your running shoes, right?) as well as a pair of sunglasses and a visor or a hat in case it's sunny out.  If there's advance packet pickup, bring some safety pins along with your race bib, and don't forget to write your ID on the back of your bib before the race starts!
Post-Race Preparation
This one is easy, especially if you've already done the rest of your packing prep. The biggest thing to have ready for you post-race is a comfortable set of dry clothes, including socks, to change into once you pass the finish line. A jacket is great too, especially in colder weather. A backup pair of dry shoes, or even ultra-comfortable sandals can be ideal as well (feel free to ignore the no-socks-with-sandals rule). Finally, get plenty of fluids and a post-race snack into you so you don't crash or dehydrate.
Don't consider this an exhaustive list, by the way. You can add or subtract to these packing items as you wish, though you might want to test your loadout by experimenting while on one of your training runs. Trial-and-error is fine, but you might want to get all that out of the way well before you set out to your first race!
What do you think of this list? Got any additions, questions, or comments of your own? Leave a comment below! Until next time keep crushing those goals!
Want to start running, but don't know where to begin? I'm here to help, download Zero to Running, for FREE!